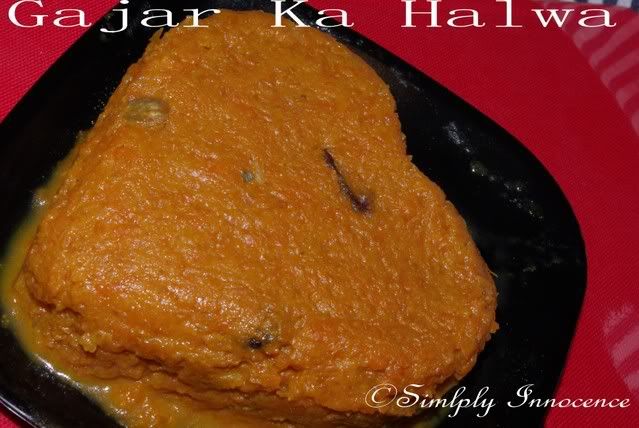 Gajar ka Halwa is the most popular Indian desert. Gajar in Hindi means Carrot and it can also be called Carrot pudding. I love to eat it when it's hot or warm as it has a rich taste with a fragrant of cardamon. I love to cook carrot in the pressure cooker to get rid of its raw smell. I dont have khoya and silvered almond in hand for garnishing. It would be good if it's decorated with it. Some people cooked it in a different way like cooking it directly on the pan, adding more ghee and sugar, adding saffron and adding Khoya.
I wanted to cook something sweet for my family. I am thinking over again and again. Then I asked my Karthik to buy bunch of fresh carrots in kroger. I decided to cook Gajar Ka Halwa with less ghee and less sugar to taste. I dint expect that it came out excellent. I feed Jaihari and he told me, "Mummy, that's enough". I was not happy and thinking that he hates it. The next day, his daddy opened the fridge to take it and microwave it for 10 seconds. He knows that I enjoyed when it's hot. I was very busy in blogging and he feed me. He also finished it. Jaihari asked, "Mummy, I love that orange sweet, where's the one for me?" I burst into laughter and told him that it's over and asked why he didnt say that he liked it. He smiled and said that he simply admired it. I made him sure to make some sweets for him the next day. He hugged me.
I want to pass it to my readers and friends in my blog to wish to say thinking of you in a special day with bouquet of roses, smiles, love and hug. Happy Valentine's Day!!!


Ingredients:
5 to 6 Carrots
1/2 cup to 1 cup Milk (adjust)
4 Cardamom pods
1/4 cup Water
3 tablespoons Ghee
1/4 cup of mixed nuts ( walnut, pecan, pistachios, almonds, sunflower seeds, cashewnuts and raisins)
1/4 cup Sugar

Wash and grate the carrots. Pressure cook it for 2 whistles with 1/4 cup water.
Heat one tsp of ghee and add the carrot just to coat well on medium flame. Add milk. Reduce the flame when it's boiling.
Cook on a low flame for 1 hour stirring occasionally. Add sugar, mix well and cook till the sugar has dissolved and all the milk has been absorbed.
Add the slightly crushed cardamoms. Heat 3 tablespoon of ghee in another small saucepan and fry mixed well till golden and add to the halwa. Simmer for 2-3 minutes.
Remove the gajjar halwa from heat and arrange in a serving dish. Serve cold, hot or at room temperature.
My desert goes to Cooking for kids hosted by Preety, RCI Haryana Event, Made for Each Other, Just For You, LOVE-HEART SHAPED FOODS and Healthy Family Dinners.