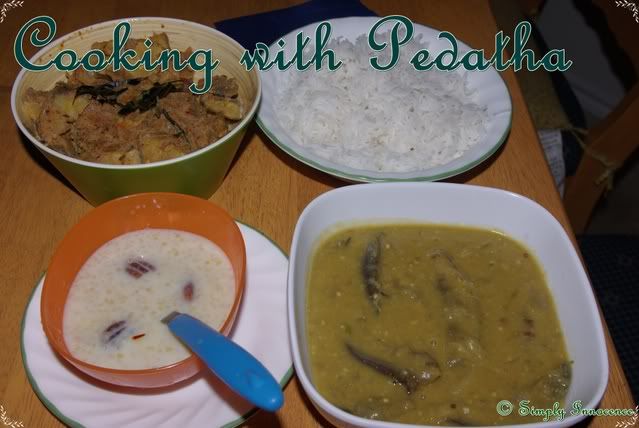 I am very happy that Cooking for kids with Love event is announced to write more about pedatha(amayee) better than food. I thank you, Sharmi of Neivedyam who lovely invites me to participate this wonderful event to make sure that I shouldnt be missed.



The meal that I learnt from her is rice, Kathirikkai paasi paruppu Kulambo(Split moong dal & Brinjal Curry), Valaikkai Porial and Kothumai rava payasam(Cracked wheat Payasam)
Yes, I am very sure that even Kids love to eat that meals to their heart content cooked by my Pedatha.
Let me write one recipe of her Kathirikkai paasi paruppuai Kulambo(Split moong dal & Brinjal Curry)
Ingredients:
Paasi Paruppu(Split moong dal) - 1/2 cup
Brinjal - 4 or 5 (chopped into lengthwise)
Onion - 1 (chopped finely)
Sambar podi - 1 tbsp
Green chilly - 3 whole
Garlic - 3 crushed
turmeic - 1/4 tsp
Shredded coconut - 1 tbsp
Salt to taste
Oil - 2 tbsp + 1tbsp (for frying and seasoning)
Ghee - 1 tbsp
Seasonings:
mustard seeds - 1 tsp
urad dal - 1 tbsp
hing - pinch
Curry leaves - 1 stick or few
Coriander leaves for garnishing.
Wash the dal and pressure cook it with 3 cups of water, green chilly, crushed garlic, turmeric and oil for 3 whistles.
Heat 2 tbsp of oil in a saucepan. Fry brinjals till soft and keep aside. In the same pan, add one tbsp of oil and do the seasonings. Fry onion till transcalent. Add brinjal and sambar podi into the onion mixture. Fry for few minutes. Add dhal with enough water, salt and coconut. Let it cook for 10 minutes in medium low flame. Add ghee and garnish with coriander leaves and serve hot with rice, roti, idly, dosa.