Nowadays, banana bread became so popular and enjoy with tiny bits of walnuts or any nuts. It's very easy to make and it's also extremely moist and flavorful. I know people will love it as much as I do. I am going to try it with different flavor or any nuts combined with correct consistency of sugar with or without eggs.
This banana bread is the perfect solution for the ripe banana problem. As long as the bananas have not fermented well, they will work. Ideally, the skins should be covered with black or yellow spots. An all yellow banana wont lend enough flavor to the bread. You may freeze ripe bananas in a freeze bag to save them for a bake day. Just be sure to strain off and discard any liquid that separates from the pulp when it thaws.
I am really very sad that my son, Jaihari hates to eat any fruits especially, banana. He enjoys to eat it lot and requests me to make it often. We often eat it with a cup of coffee or tea while watching late movies at every Saturday night. Try this recipe, share it with me and enjoy it lot.

Fat free Vegan Banana Bread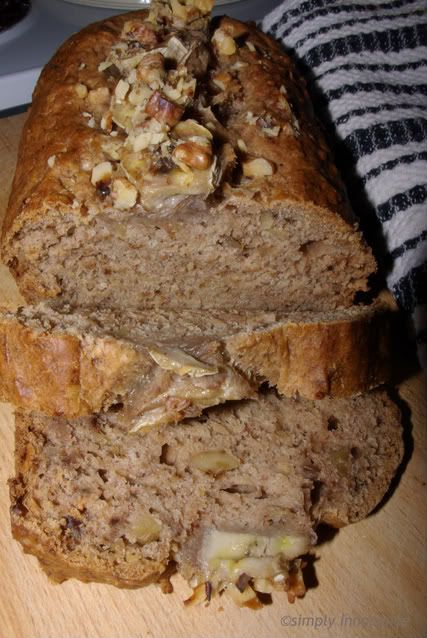 Ingredients:
3 ripe bananas
1/4 cup applesauce
1/4 cup canola oil

1/4 cup sugar

1/4 cup brown sugar

2 cups all-purpose flour

3/4 teaspoon baking soda

1 teaspoon ground cinnamon

1/4 teaspoon ground nutmeg (or grated fresh)

1/2 teaspoon salt

1/2 cup chopped walnuts

Topping:

1 sliced banana

1/4 cup chopped walnuts

Method:

In a large bowl peel the bananas and break them into small pieces. With a potato masher, mash the bananas. Set aside. In a separate bowl add oil, applesauce, white and brown sugar, mix together and whisk briefly to incorporate. Add in the mashed bananas and mix until well blended.

Sift in the flour, baking soda, spices, and salt.Without over mixing combine the flour and banana mixtures together. Fold in the chopped walnuts.

Pour batter into a well greased 9x 5 loaf pan.Peel a banana and slice into pieces. Place the banana slices down the middle of the batter. Top the banana slices with chopped walnuts.

Preheat the oven to 350 degree F.

Transfer the batter to the prepared pan and bake for 55 - 60 minutes until a skewer inserted into center of the loaf comes out clean.

Let the loaf cool in a pan for 10 to 15 minutes and turn it out on to a wire rack. Let them cool atleast 1 hour before slicing. Makes 1 loaf.

I'm sending a slice of loaf to Susan at

Wild Yeast

for

Yeastspotting

, to Floyd at

The Fresh Loaf

and to Sindhura of

THE BREAD MANIA event

.