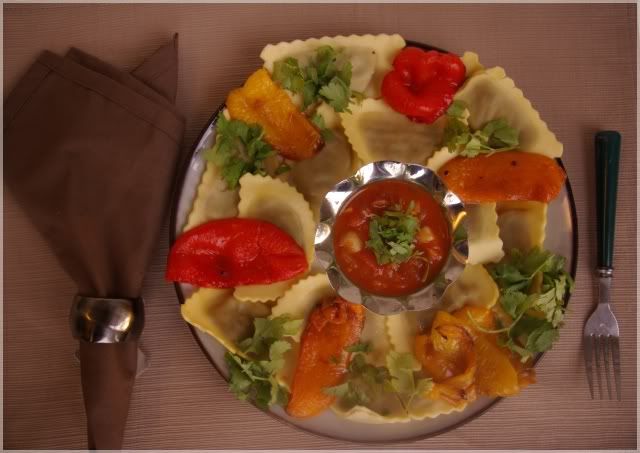 I am surprised to get Wild Mushroom Agnolotti from the folks at Foodbuzz. It's generously filled with fresh portobello & crimini mushrooms, imported Grana Padano & Parmesan cheese and fresh roasted garlic.

Thanks to the folks at Foodbuzz for sampling it to every foodies including me to get creative in the kitchen and let them choose what combinations we love.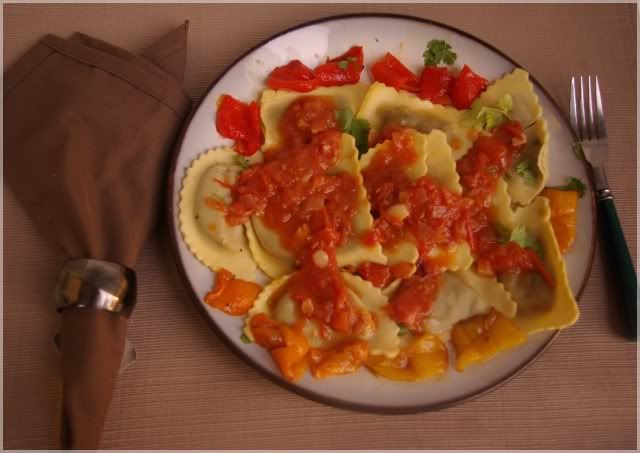 I wanted to try something creative on my own in the kitchen. Slowly, I came up with idea of bedding little pillowy pasta with roasted peppers and freshly infused with tomato sauce to give divine flavor.


If time is an issue, assemble the baked pasta dishes the day before you plan to serve them Believe it or not, it's my first attempt to assemble pasta. I never enjoyed an expensive Italian restaurant after coming to US, and so I am not good in expert to assemble pasta.
To invent your own baked pasta combinations, try a mix-and-match approach.
I am sending this plate to Buitoni to create my own masterpiece.

Pasta in Roasted Peppers freshly infused with Tomato sauce



Ingredients:
1 pack Buitoni Wild Mushroom Agnolotti
3 tablespoon olive oil
1 big onion chopped finely
1/2 teaspoon fennel seeds, crushed
4 cloves garlic, minced
2 tablespoon red pepper flakes (As desired)
6 ripe Roma tomatoes chopped finely
2 tablespoon tomato sauce
1 green pepper
1 red pepper
1 yellow pepper
1/2 teaspoon sugar (Optional)
Salt to taste
1/4 teaspoon fresh ground pepper
1 tablespoon chopped Coriander leaves
Grated Parmesan Cheese to serve

Directions:
Cook the pasta of your choice by following its instructions. Drain the pasta reserving 1/2 cup of the pasta water.
Heat the oil in a saucepan and add crushed fennel seeds and minced garlic. Let them infused with the oil for a minute or two, but don't burn too much
Add onion and fry it for 5 minutes until it becomes translucent.
Add pepper flakes with tomatoes to onion mixture for few minutes, and bring them to boil.
Reduce heat, and simmer, uncovered for 30 minutes and stirring occasionally.
Cut roasted green, red, and yellow peppers into julienne strips.
Add roasted pepper strips, salt, and freshly ground pepper to tomato mixture and cook for 3 minutes or until cooked through.
Combine tomato mixture, cooked pasta, and basil in a large bowl, and toss mixture well. Sprinkle with Parmesan cheese if desired.

Generally, I do not add cheese to any pasta that has seafood, or hot spices as as the cheese would diffuse the heat of the sauce. I like to add little more of the pepper flakes and wait for a few minutes before tasting. You can always add more if desired, but you can't remove them if you have made the sauce too hot initially.

Roasted Peppers:
Cut the peppers in half, and remove the seeds and membranes. Then place the peppers on a baking sheet, and press each with the palm of your hand to flatten them.

Broil the peppers 5 1/2 inches from heat 15 to 20 minutes or until the skins are blackened. Immediately plunge the charred peppers into a bowl of ice water. Peel the charred skins from the peppers, and discard the pepper skins. The soft, slippery roasted pepper flesh will be ready to use or to freeze.

Buon Appetito!