What do you think of the color "Pink"? To me it always represents rose milk, the beautiful smell from the essence of Rose reminds me of my childhood memories. My mom used to make it and put ice on top and gave it to me after school with a big glass of rose milk. It's because I hate milk and never enjoy to drink it plain with sugar or any drink mixes like Ovaltine, Boost, Horlicks etc.
Nowadays, I never tried it and enjoyed lot only in few restaurants in Singapore. Here, in US, I asked indian stores whether rose syrup is available or not. I was happy to get it and tried it. To my surprised, Jaihari too enjoyed it lot but his friend, Sritha just heard its name and didnt try it here as she never liked it.

I read its instruction in the back of the rose syrup. I know it'll be very sweet. So, I prepared my mind to change its measurement on my own. It's very easy and simpe unless you have rose syrup. Using the rose syrup, we can also make Semiya Payasam and other deserts.
I took rose syrup to Food of Miami who asked me what brand she can get it in the supermarket. She wants to try it urgently as it's very easy to make it for her. Let her enjoy drinking my rose milk, slurp...slurp...slurp... Do visit her blog to know the best restaurants, she ever tried, in the places where she travels around the world especially Mumbai.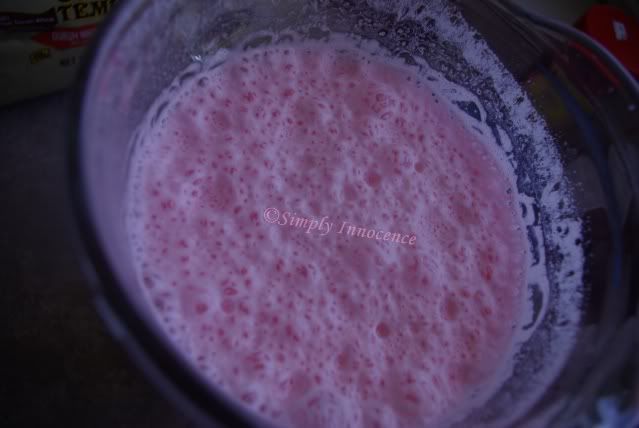 Here's what I need:
1/4 cup or to taste Rose Syrup
4 glasses of chill milk
Ice cubes if prefered
Blend rose syrup, chill milk and some ice in a blender and push frozen drinks & shakes button to blend well. Serve it in a glass with some ice cubes. I am using Oster fusion and it blends great for smoothies and shakes.
Slurp, slurp, slurp............... and enjoy.